ADDRESS: 2120 S. Jefferson Avenue, St. Louis MO 63104
TEL: (314) 772-4438
Proudly nestled between Soulard, Lafayette Square, and Benton Park, Jefferson Animal Hospital is located in a neighborhood known as McKinley Heights.
ADDRESS: 1611 S. Grand Boulevard, St. Louis MO 63104
TEL: (314) 492-8548
At St. Louis Veterinary Center, we have been serving the residents of South City by providing all your pet's needs for decades. Our skilled team has diverse experience, and we always strive to offer unparalleled patient care and customer service.
ADDRESS: 4131 Lindell Boulevard, St. Louis MO 63108
TEL: (314) 320-0004
Thorough check-ups and preventive care can help alleviate serious health problems. We offer a wide range of veterinary services to keep your companions feeling their best.
ADDRESS: 5325 Manchester Avenue, St. Louis MO 63110
TEL: (314) 645-2141
Hillside Animal Hospital is a full-service veterinary medical facility, located in St. Louis, MO. The professional and courteous staff at Hillside Animal Hospital seeks to provide the best possible medical care, surgical care and dental care for their highly-valued patients.
ADDRESS: 4621 Chippewa Street, St. Louis MO 63116
TEL: (314) 773-6700
In St. Louis, MO, Banfield Pet Hospital provides the quality, caring pet health services that have made our reputation since 1955. Banfield Pet Hospital in St. Louis provides a high standard in veterinary care to the pets that come through our doors.
ADDRESS: 3725 Watson Road, St. Louis MO 63109
TEL: (314) 644-1544
Watson Road Veterinary Clinic is a full service animal hospital . Our staff at Watson Road is experienced in handling all types of conditions and treatments. Beyond first rate pet care, we make our clinic comfortable, kid-friendly, and a very calm environment so your pet can relax in the waiting room and look forward to meeting his or her own St. Louis veterinarian.
ADDRESS: 7001 Hampton Avenue, St. Louis MO 63109
TEL: (314) 353-3444
St. Louis Hills Veterinary Clinic is staffed by three veterinarians who work to optimize your pet's health and treatment options through the integration of traditional and holistic medicine. We believe in treating our patients within the context of overall wellbeing.
ADDRESS: 2224 South Big Bend Boulevard, St. Louis MO 63117
TEL: (314) 781-6121
Big Bend Veterinary Clinic is a full-service animal hospital and welcomes both emergency treatment cases as well as pet patients in need of routine medical, surgical, and dental care.
ADDRESS: 8028 Big Bend Boulevard, St. Louis MO 63119
TEL: (314) 968-4310
At Webster Groves Animal Hospital & Urgent Care Center, we know how important your pet is to you. That's why we're committed to providing the best veterinary care for your faithful companion.
ADDRESS: 9350 Olive Boulevard, St. Louis MO 63132
TEL: (314) 567-5577
We offer preventative and routine healthcare, surgeries, dentals, and treatment/management of complicated conditions.
---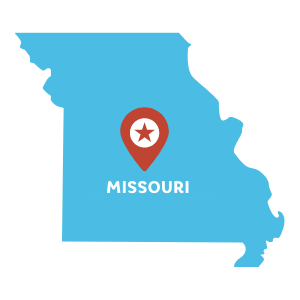 AFFTON // ARNOLD // BELTON // BLUE SPRINGS // CAPE GIRARDEAU // CHESTERFIELD // COLUMBIA // FLORISSANT // GLADSTONE // GRANDVIEW // HAZELWOOD // INDEPENDENCE // JEFFERSON CITY // JOPLIN // KANSAS CITY // KIRKWOOD // LEE'S SUMMIT // LIBERTY // O'FALLON // RAYTOWN // SEDALIA // SPRINGFIELD // ST CHARLES // ST JOSEPH // ST LOUIS // ST PETERS // WENTZVILLE // WILDWOOD