ADDRESS: 2015 Linden Drive, Madison WI 53706
TEL: (608) 263-7600
Our pet & large animal emergency teams work around-the-clock to provide your animal with the best veterinary care in any situation.
ADDRESS: 3518 Monroe Street, Madison WI 53711
TEL: (608) 236-4570
Lakeview Veterinary Clinic is a modern, full-service, small animal practice offering medical, surgical, dental, and preventative care. We provide a friendly, neighborhood environment with an emphasis on service.
ADDRESS: 1730 Fordem Avenue, Madison WI 53704
TEL: (608) 230-5499
Isthmus veterinary care is a locally owned, independent dog and cat clinic, conveniently located on Madison's isthmus. Pioneering a new model of veterinary care, we offer smart services at a sensible price. Most importantly, we provide a compassionate and frank attitude towards caring for your cats and dogs.
ADDRESS: 2704 Royal Avenue, Madison WI 53713
TEL: (608) 274-7772
Madison Veterinary Specialists is an AAHA Accredited, top specialty medicine and emergency animal hospital located in Madison, WI.
ADDRESS: 2801 E Washington Avenue, Madison WI 53704
TEL: (608) 294-9494
Healthy Pet Veterinary Clinic is proud to serve the Madison WI area for everything pet related. At Healthy Pet Veterinary Clinic, we're proud to provide you and your companion animals with a friendly, family-like atmosphere, combined with our dedication to uncompromising care. We offer a wide range of veterinary services to keep your companions feeling their best.
ADDRESS: 5129 University Avenue, Madison WI 53705
TEL: (608) 238-3461
Spring Harbor Animal Hospital provides the finest veterinary care for cats and dogs in Madison, Wisconsin and the surrounding communities. Our modern and inviting hospital boasts superb veterinarians and caring support staff that are dedicated to our patients, clients, and community.
ADDRESS: 4902 East Broadway, Madison WI 53716
TEL: (608) 222-2455
Family and local veterinarians rely on Veterinary Emergency Service & Veterinary Specialty Center as a resource for state-of-the-art pet care. It's a partnership that provides the best for you and your pet.
ADDRESS: 6249 Nesbitt Road, Madison WI 53719
TEL: (608) 271-4212
Your pet is an individual with their distinctive habits. Our veterinarians and support staff provide high-quality care that is unique to your pet. Fitchburg Veterinary Hospital is a full-service veterinary hospital offering compassionate care for your pet during every phase of his life.
---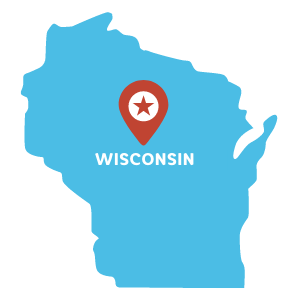 APPLETON // BARABOO // BEAVER DAM // BELOIT // BROOKFIELD // CEDARBURG // CHIPPEWA FALLS // CUDAHY // DE PERE // EAU CLAIRE // FITCHBURG // FOND DU LAC // FORT ATKINSON // FRANKLIN // GLENDALE // GREEN BAY // GREENFIELD // JANESVILLE // KAUKAUNA // KENOSHA // LA CROSSE // MADISON // MANITOWOC // MARINETTE // MARSHFIELD // MENOMONIE // MEQUON // MIDDLETON // MILWAUKEE // MUSKEGO // NEENAH // NEW BERLIN // OAK CREEK // OCONOMOWOC // ONALASKA // OSHKOSH // PEWAUKEE // PORT WASHINGTON // RACINE // RIVER FALLS // SHEBOYGAN // STEVENS POINT // STOUGHTON // SUN PRAIRIE // SUPERIOR // TWO RIVERS // WATERTOWN // WAUKESHA // WAUPUN // WAUSAU // WAUWATOSA // WEST ALLIS // WHITEWATER // WISCONSIN RAPIDS