ADDRESS: 1025 S State Street, Chicago IL 60605
TEL: (312) 663-9200
Our mission at Burnham Park Animal Hospital is to provide your pet with the highest quality veterinary care. We use state-of-the-art diagnostic and treatment options and our staff is highly qualified to provide advanced medical and surgical care.
ADDRESS: 333 E Benton Place, Suite 205, Chicago IL 60601
TEL: (312) 753-5551
Our veterinarians and staff believe each pet deserves exceptional veterinary care—and that you play an integral role in your pet's health care, too. A well-informed owner is a strong proponent of preventive care, so we not only treat your pet but educate you, too.
ADDRESS: 227 E Grand Avenue, Chicago IL 60611
TEL: (312) 509-9170
GoodVets Streeterville is the first and only animal hospital located in the Streeterville neighborhood of downtown Chicago. Home to wonderfully passionate pet owners and two dog parks located in Bennett Park, Streeterville is regarded as one of the most pet-friendly areas of Chicago.
ADDRESS: 815 W. Randolph Street, Chicago IL 60607
TEL: (312) 421-2275
At West Loop Veterinary Care, it is our sincerest desire that your pet receives the highest standard of care we can give. Our full-service, AAHA-accredited facility is more than just an animal hospital; it's a place where exceptional pet care and stellar customer service are pledged.
ADDRESS: 1640 S. Michigan Avenue, Chicago IL 60616
TEL: (312) 753-5551
South Loop Animal Hospital (SLAH) has been serving Chicago's south loop and lakeshore communities since 2009. We've grown since then, but our humble mission is the same. Our veterinarians and staff believe each pet deserves exceptional veterinary care—and that you play an integral role in your pet's health care, too.
ADDRESS: 1248 W Washington Boulevard, Chicago IL 60607
TEL: (312) 243-6655
Welcome to VCA Animal Care Center of Chicago. We are a full-service veterinary care facility seeing dogs, cats and exotic animals, while also offering boarding, grooming and day care. We are open 7 days a week by appointment!
ADDRESS: 960 W. Chicago Avenue, Chicago IL 60642
TEL: (312) 738-3322
At VCA Lake Shore Animal Hospital, we look forward to welcoming you, your dog, cat and other pets. Everyone on our staff believes that the better we get to know your pets, the better we can provide the best possible health care for them.
ADDRESS: 2242 W. Harrison Street, Suite 101, Chicago IL 60612
TEL: (312) 226-2588
Medical District Veterinary Clinic is a full-service, Fear Free Certified, family-oriented practice where your pet is a special member of the family!
ADDRESS: 1618 W. Diversey, Chicago IL 60614
TEL: (773) 525-3353
From the moment you walk into our pet clinic, you'll instantly recognize that we are devoted to your pet's well-being and happiness. We treat your pet as a member of our own family—with love and kindness. You'll often see a pet in a staff member's arms or eagerly awaiting a tasty treat. We are more than just a pet hospital.
ADDRESS: 3219 N. Clark Street, Chicago IL 60657
TEL: (773) 327-4446
At VCA Blum Animal Hospital, it's about the experience. We're passionate about Chicago's pets, and that passion shines through with every interaction. Our commitment to practicing the highest quality veterinary medicine is evident and ongoing.
ADDRESS: 3305 N. California Avenue, Chicago IL 60618
TEL: (773) 281-7110
Welcome to MedVet Chicago. With more than 35 years of experience, our hospital is home to the most advanced 24-hour emergency and critical care services within the greater Chicagoland area. Additionally, we offer a full array of exceptional specialty services that serve as an extension of your family veterinarian's practice.
ADDRESS: 3927 W. Belmont Avenue, Chicago IL 60618
TEL: (773) 516-5800
Premier Veterinary Group: Animal Emergency & Specialty Centers believes that all veterinarians, pets and pet owners deserve premier experiences. Everything we do reflects this belief.
---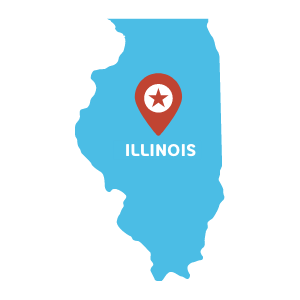 ARLINGTON HEIGHTS // AURORA // BARTLETT // BELLEVILLE // BLOOMINGTON // BOLINGBROOK // BUFFALO GROVE // CHAMPAIGN // CHICAGO // CICERO // DECATUR // DEKALB // DES PLAINES // DOWNERS GROVE // ELGIN // ELMHURST // EVANSTON // GLENVIEW // HOFFMAN ESTATES // JOLIET // LOMBARD // MOLINE // MOUNT PROSPECT // NAPERVILLE // NORMAL // OAK LAWN // OAK PARK // ORLAND PARK // PALATINE // PEORIA // ROCKFORD // SCHAUMBURG // SKOKIE // SPRINGFIELD // TINLEY PARK // URBANA // WAUKEGAN // WHEATON